Moving to a new place is definitely an exciting time. It does not matter whether you used to live across the street or on the other side of the country, once the boxes are unpacked there is a world of opportunity that is being opened before you.
The importance of the house-warming party
One of the first things people do once they move to a new place is to throw a party for friends and family. This is a great idea, because a housewarming party is the most fun and efficient way to turn your property into a real home. The sheer volume of good vibes that will sink in the walls of the place are going to make it feel warmer and cozier instantly.
Let everyone in
A housewarming party by definition is an informal affair. Even though etiquette may dictate that it is unacceptable for guests to bring their friends, you might not want to frown upon them if they do. This is a great way to expand your social circle and get to know new people who will eventually become your friends. Just make sure to invite those who are closest to you.
Keep the food simple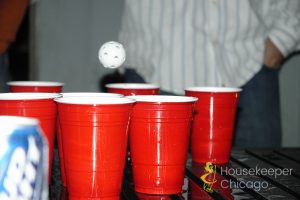 Unless you have specifically stated that it is going to be a dinner-party, no one will expect a feast. Having fun at a housewarming party is much more important than eating. So, focus on the drinks and finger food. Not only would that be much easier to prepare (or directly purchase from a catering company), but it is going to encourage your guests to mingle and interact with one another.
Spice things up with a theme
A great way to make your housewarming romp a really memorable night is to turn it into a theme party. There may be a dress-code or not, it all depends on the people you invite. Preparing the theme might require a little extra effort on your side because you will first have to come up with the theme and then fix the decoration, but we can assure you that it is going to be well worth it.
Do not underestimate the playlist
Music is a very important part of every party and you should make sure that it is carefully picked up. We cannot help you much here, because you are the person who knows what your guests like and would enjoy in terms of music. We can just bring your attention to the fact that you should not forget about music. Or, you can delegate the responsibility to a friend who you know is going to do a better job as a DJ for the night than you.
Get ready to clean a big mess
The only unpleasant thing about a house party is the morning after cleaning. You can either sign up a few close friends to help you bring things in order after the big bash, or you can simply call up your local housekeeping company to send a team of cleaners. Both options are much more sensible than simply trying to tackle the job on your own.