You can absolutely rely on Housekeeper Chicago regarding your commercial cleaning tasks. With our company you will be getting top grade sanitation assistance in Chicago without the need to pay a lot. We believe that quality is superior to quantity and this is why we have incredible deals for our new and loyal customers. We have fair prices and insist on bringing you only masterful purification help for your office. Our experience has allowed us to expand the spectrum of services which we offer and this is why you can have a number of them at the same time. Doing so will grant you a package deal thus giving you further discounts on any sort of Chicago cleaning procedures. Some of them may include:
Floor cleaning
Window washing
Upholstery sanitation
Dry cleaning
All of the above are especially good when it comes to maintain a clean office space. Our experts will come up with a plan and will make the necessary arrangements prior to your Illinois commercial cleaning procedures. Housekeeper Chicago understand that not all tasks are the same and customization is imperative. You can rest assured that will specifically address your needs and will tailor the whole sanitation job depending on your requirements. We will take into account the size of your property, the nature of your business and the type of furniture you have. Yes, we have the necessary machinery and apply various methods so that nothing remains dirty after our intervention.
Our in-house training makes all the difference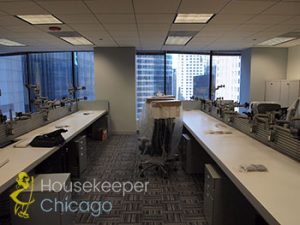 Our cleaners, while perfectly well trained also wield top notch cleaning supplies. We have commercial grade sanitation machinery so that we can cover larger areas quickly and effectively. Even if you have a big facility we are the group to call for a Chicago business cleaning operation. Floor buffers are available in case you have large waiting rooms with heavy traffic. Steam cleaning of hard floors is also an option as it guarantees a germ-free environment without the use of anything else but hot water. Vacuuming is imperative and is usually done prior to wetting the floor. It goes really well in case you want to have clean carpets and curtains in your office. Chicago Dry cleaning is another one of our methods and is usually applied in case you have stale stains and dirt spots on upholstery or rugs. We will carefully inspect them and will use the most suitable detergent we have. Nothing that we apply is toxic and will not harm the environment. No smell or odor is left behind and a quarantine will not be necessary. This brings us to our next point.
Flexibility is a must when we talk about Chicago commercial cleaning. We will not impair your business schedule in any way and can actually be hired to work during the weekend. Our goal is to constantly be available for maximum convenience.
Even though the city of Chicago is huge, there are many places which make you feel cozy. Such a place is the Chicago Riverwalk. You can see all the old buildings of the city if you take this route and will feel exceptionally well strolling next to the river. There are plenty of seats there for you to rest. Grant Park is also a nice area with plenty of flowers and water. It is a lad back place with outstanding gardens and many beautiful sites. North Avenue Beach is a great option but mainly during the summer in Chicago. If it is cold just go to the Adler Planetarium and have a great time exploring the Universe.