As professional cleaners we know how exhausting and time consuming some sanitation jobs can be. This is why we offer high quality Chicago steam cleaning services which can drastically facilitate and speed up the execution of some of your sanitation duties.
Comprehensive steam cleaning options
We have tailored our steam cleaning services in Chicago to match in full the highest standards of the sanitation industry. This way our clients can have the peace of mind that they can use our services to maintain their:
Rugs and carpets
Furniture upholstery
Patios, front decks and pathways
Curtains, drapes and blinds
Hardwood floors
We use state of the art steam cleaning machines because our customers deserve nothing less than perfect services and more importantly because we can easily clean even the most soiled and stained items and property features. Our skilled cleaners will use the necessary techniques to safely and immaculate clean your tarnished possessions and make sure that your household or place of work is free of harmful particles such as germs, bacteria, dust, pests, dirt, allergens and more.
Fully insured sanitation services in Chicago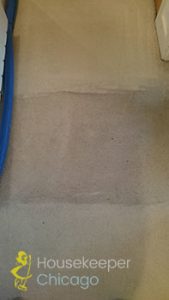 Our steam cleaning services in Chicago are fully insured because we don't want to leave anything at chance. However, you should note that to date we have never had any accident of any kind because we are attentive and diligent contractors who always test the products that we use in order to avoid any unwanted effect such as damages, tears, discoloration and fading.
You can learn more about our cleaning housekeeping firm in Chicago and the numerous sanitation options that we provide by exploring our company website in full. We also invite you to contact us by telephone or e-mail if you wish to ask us any questions, book our services or request a free and final quote. We have a support center which is operational 24 hours a day, 7 days a week.