In order to make sure your apartment is always in a good shape in terms of sanitation you ought to call our professional company. Housekeeper Chicago specializes in a wide array of cleaning services and one of them is apartment cleaning. Get it at a cheap price with us and save a lot of time doing it. We guarantee you excellent results as we have plenty of experience in this field. Apartments are deceivingly tough to clean as there is usually a lot of furniture and other stuff crammed together in a smaller space. Furthermore properties in the big city generally have more dust. You need to spend a lot of your own precious time in order to achieve the results which we will give you in the matter of minutes.
Having great personnel is a huge advantage
Our teams are finely trained and well prepared for any situation. They can work around larger pieces of furniture and will also pay attention to every little detail. No corner will be left dirty or messy. Of course you do not need to opt for a deep apartment cleaning in Chicago. Get some of the following:
Bathroom cleaning
Kitchen cleaning
Oven cleaning
Hard floor washing and cleaning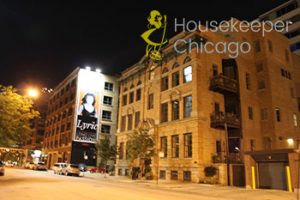 We have various ways of approaching each Illinois sanitation task you might have for us. Vacuuming is generally the "go to" method. Our machinery is advanced and we have powerful suction which normal vacuums usually don't. Your carpets, upholstery and curtains will be dust-free within minutes. Dusting is also an option and will take care of all the furniture and other goods on which dust has settled in. Steam cleaning is one of the finest ways to get rid of dirt and germs at home. It is equally as effective of floors, windows and rugs.
As far as kitchen cleaning goes you can also have us over for an oven purification in Chicago. This will get you a discounted price and a package deal. Take advantage of our affordability and convenience.
Chicago has everything from tall buildings, noisy streets and big clubs all the way to great education institutions and museums. See the Field Museum and get in touch with the history of nature. There are even dinosaur skeletons there. If you are into art go to the Chicago Museum of Contemporary Art where your taste will definitely be tested.