Between going to work and taking care of your family needs, you barely have enough time to breathe let alone maintain a crystal clean household. So, why don't you delegate to us your sanitation duties while you handle the rest of your obligations? We are certified and fully insured cleaners and we provide home sanitation services of world class quality.
We have the necessary workforce to properly clean households of any size. Even more, if you wish you can opt to take advantage of our contract general house sanitation services in Chicago and have the peace of mind that your home will be constantly in a clean and tidy state. The sanitation schedule will be drafted to accommodate your personal agenda and preferences and can be readjusted periodically. We also offer the following fixed cleaning periods:
Daily
Bi-daily
Weekly
Bi-weekly
Monthly
Green house cleaning services in Chicago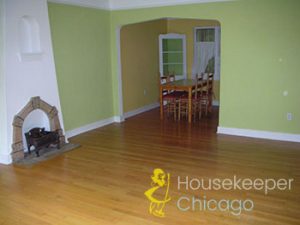 Our cleaners and housekeepers in Chicago are equipped with high end jet cleaners and sanitation machines, so you can rest assured that they can meticulously clean even the dirtiest and most tarnished areas and features of your household. The detergents that we use are safe because they are made from eco-friendly ingredients. We work with green solutions because they permits us to provide you an indoor environment which is free of harmful particles and more important because they are harmless to children.
Round the clock assistance
We maintain a 24/7 customer support center which you can use to contact our consultants and make inquiries about our Chicago general house cleaning services. Our friendly and knowledgeable advisors will gladly answer to all your questions, provide you additional information, present to you your personalized and free quote and last but not least assist you with the booking of our sanitation options. Know that we are eager to meet you and help you with the maintenance of your household.