As the leading provider of top notch sanitation services for the territory of Chicago, we are dedicated to providing our clients with the best solutions that one can hope for.
Full coverage of the city of Chicago
Our rug and carpet cleaning services available throughout Chicago have been designed with the best methods and practices of the industry in mind. Carpets are among the nicest flooring solutions that are currently known to man, but they have one considerable drawback – they are hard to maintain clean and in a good condition. And when we say hard, we mean really hard.
General carpet maintenance in Chicago of a superior quality
Our rug sanitation service for Chicago is perfect for general rug and carpet maintenance. Have our technicians, all fully equipped and licensed, come to your place and use our powerful steam cleaning equipment to clean your carpets in-depth, removing soiling, dirt, dust and other allergens that threaten yours and your family's health. This is particularly important especially if you have pets, as well as kids. Thanks to the special equipment that we use, you will be able to enjoy your carpet looking like it has just come from the store right away – no need to wait for it to dry, or anything.
Stain removal done properly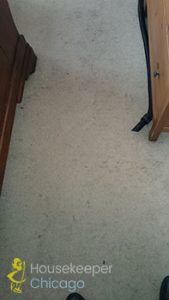 We are available for emergency carpet cleaning in all Chicago zip codes as well. Our technicians know how to remove stains of all kinds with ease and professionalism. Call us if you want us to remove the damage caused by:
Wine and food spills
Pet stains
Candle wax
Mud
In those cases that the use of a cleaning product is required, we are going to pick up the most eco-friendly and green option. We do want to make your carpets look like new, but we also would avoid getting dangerous chemicals in your house.
Book us now
Give us a call today in order to make a reservation and get a free quote for the best rug sanitation and carpet cleaning service in Chicago.
We are based in Chicago and operate in all zip codes of the city. Chicago is divided into 77 communities and has a population exceeding 3 million people. Known as the Windy City, Chicago is among the best places to live in the United States. The culture, cuisine and economy of Chicago are indeed among the best rated in the country. Among other things, Chicago is one of the busiest tourists destinations in the world. According to the latest statistics, over 50 million people go through just the celebrated Chicago O'Hare International Airport on an annual basis. Many of them are not simply passing by, but rather come to visit Chicago.